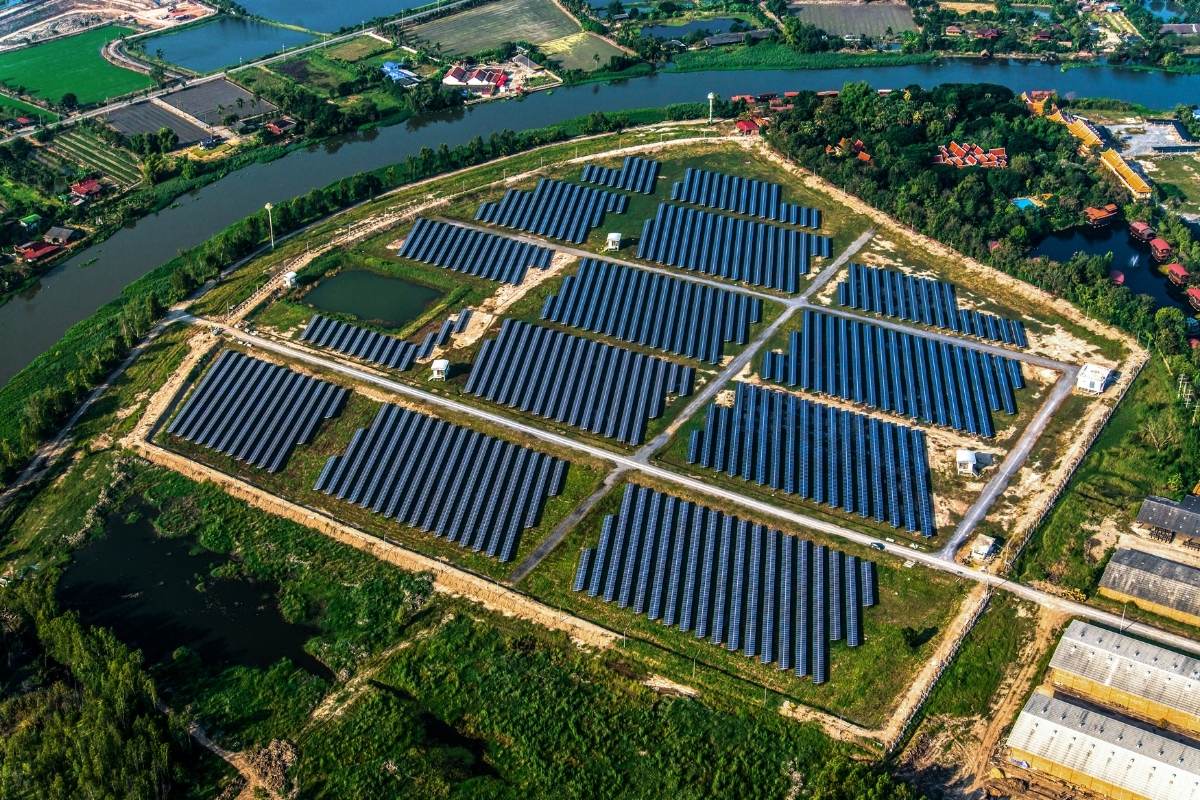 The world at large is leaning towards cleaner and renewable energy sources. Consequently, many countries in the world are tapping into various renewable energy sources such as wind, biomass, and solar energy. In Germany, for example, renewable energy accounts for about 48% of the country's total generated electricity.
Solar farms serve as reservoirs used to convert solar energy to useable electric energy. This is achieved using photovoltaic installations present at different locations in many countries around the globe. There are various solar projects around the world, with the world's largest solar farm being the Bhalda Solar Park in India.
With more countries embracing the use of clean, renewable energy, we're looking at a future where environmentally harmful energy sources such as coal will be a thing of the past. Find more details about the world's largest solar farms in 2022.
World's Largest Solar Farms In 2022
Bhalda Solar Park (India)
Located in the Jodhpur area of Rajasthan in India is a 2245MW photovoltaic solar plant. It covers a massive 14,000 Acres of land. The Bhalda solar park also boasts the world's largest solar farm in 2022. It contains more than 10 million solar panels.
Key features
The construction kicked off in July 2015 and finished in March 2020.
It has a capacity of 2.25 Gigawatts (GW) which can power up to 4.5 million households.
The first phase has seven solar plants with a capacity of 75MW. The second phase has ten solar plants with a combined output of 680MW.
Phases 3 and 4 of the project comprise ten solar power plants with capacities of 1000MW and 500MW, respectively.
Pavagada Solar Park (India)
It is also known as Shakti Sthala. It is on 13000 acres of land in Pavagada Taluka, Tumkur district in Karnataka, India. With a capacity of 2050MW, it is the world's third largest photovoltaic solar park. The area receives high levels of solar radiation and scanty rainfall.
Key features
The park is divided into eight sections with a total capacity of 250MW each.
Its eight sections are sub-divided into five blocks of 50MW each.
The photovoltaic solar panels are at an angle of 15 degrees.
There are a total of 166,668 Canadian Solar panels (CS6X-300P).
499995 units of First Solar's FS-3100 Photovoltaic modules are installed on each 50MW block.
Huanghe Hydropower Golmund Solar Park (China)
This solar farm is a 2200MW-producing photovoltaic station. It is in the Golmund, Quinghai Province in China.
Key Features
It has an energy storage system of 209.9 MW.
It has an 800 kV power line that stretches up to 1600 kilometers for power transmission.
It is adjustable to 10 GW capacity for the future.
Benban Solar Park (Egypt)
With a capacity of 1650MW, the Benban solar park is a giant in solar electricity production. It is in Benban Eygpt in the western desert. The park is so large that it is visible with satellite imagery.
Key Features
It has 32 solar power plants.
Each plant has a capacity of 50 megawatts.
It consists of transformer stations for the distribution of the energy.
The project was backed by extensive research from NASA.
Tengger Desert Farm in China
This solar farm is in Zhongwei, Ningxia, China, with a capacity of 1547 MW. It covers an area of around 43 square kilometers. This project powers over 60000 homes in China.
Key Features
It is made up of 45 interconnected grids to supply the power.
The park is divided into the Photovoltaic section, PV manufacturing section, Agricultural greenhouse section, and sightseeing and planning section.
The project cost is up to 20 billion Yuan.
Noor Abu Dhabi (United Arab Emirates)
It was commissioned by Sweihan PV Power Company. The panels have an inventive model layout. It covers an area of 8 square kilometers and uses about 3.2 million solar panels. It produces around 1200 MW that serves up to 90 thousand homes.
Key Features
The solar cell is designed with MONO PERC technology (a passivated emitter and rear cell).
The PV design is East-west orientation.
It has 201 power stations that use two 1000 volts inverters. The inverters have a capacity of 2.33MW each.
Datong Solar Farm in China
This solar park is located in Shanxi, China making the country one of the foremost in solar energy. The farm was developed by China Power International Development. It has a capacity of 1000 MW.
Key Features
The farm uses modules with a capacity of 280 Watts each.
It is a ground-mounted project.
The solar farm supplies enough energy to power up to 37,000 households.
Mohammed Rashid Al Maktoum Solar Park in UAE
This solar park sits on 77 square kilometers of land. It is located 50 Kilometers south of Dubai with a capacity of 1013M.
Key Features
The solar farm consists of 152,000 photovoltaic cells.
It generates up to 28 million kWh of electric power in a year.
The farm has reduced up to 15,000 tons of carbon emissions.
Kurnool Ultra Mega Solar Park (India)
This solar farm is located in Andra Pradesh, India, and occupies over 24 square kilometers. It has a capacity of 1000 MW.
Key Features
It uses about 4 million solar panels, with capacities ranging from 315-320 watts.
The solar panels are connected to four 220/33 kV stations of 250MW each.
They distribute electrical power through about 2000 kilometers of cables.
NP Kunta solar park (India)
This park is also known as Ananthapur Ultra Mega Solar Park. It is built in India and owned by Andra Pradesh Solar Power Corporation Private Limited. The solar farm covers an area of around 32 square kilometers.
Key Features
Flat panels PV technology installed.
The largest solar project created with local materials
It provides around 978 MW of electricity.
Conclusion
Carbon emissions are a threat to human and environmental health. To reduce global warming, solar power is the mainstay of forward-thinking economies. Also, solar energy is the way forward in the war against environmental pollution and global warming. Thankfully, many countries are adopting this new trend, with China and India taking giant strides in the sector. This list is by no means exhaustive as more countries are adopting cleaner energy.